How to clean mosquito nets in 4 steps
Cleaning mosquito nets may not be a very pleasant task, but if you don't want insects in your home, it is the best way to keep them away. only way to achieve the objective. Ideal for the summer months, these products are of maximum use in cottages, first floor apartments and derivatives. Do you know why you should take them into account?
What is a mosquito net?
A mosquito net is a frame attached to a cloth or metal screen to be placed on the windows and/or doors of our house. Perfect for country houses, for decades they have also been installed in blocks of apartments. As a complement to the shutters, they should not be used as a substitute, at least not for a long period of time.
The use to which insect screens have been put in the past year has led manufacturers to seek new materials and styles to shape much more modern designs than those old classics. Now, with all the options available, you will not only be protecting your home from insects, but you will also be adding decoration to your home.
What are mosquito nets for?
Whether simple or more modern, this home accessory is intended to to prevent the passage of insects or any other bug that may invade your home. On the other hand, if the holes are small enough, it also prevents the many dust particles in the atmosphere from entering the home. Cleaning mosquito nets also ensures that the environment maintains the necessary hygiene to develop a healthy life.
Depending on the type of house you own, the mosquito net structure will be greater or lesser, as well as the materials used in their manufacture. Although they all have the same purpose, today we can choose their texture, color and many other details that a few years ago would not even have crossed our minds.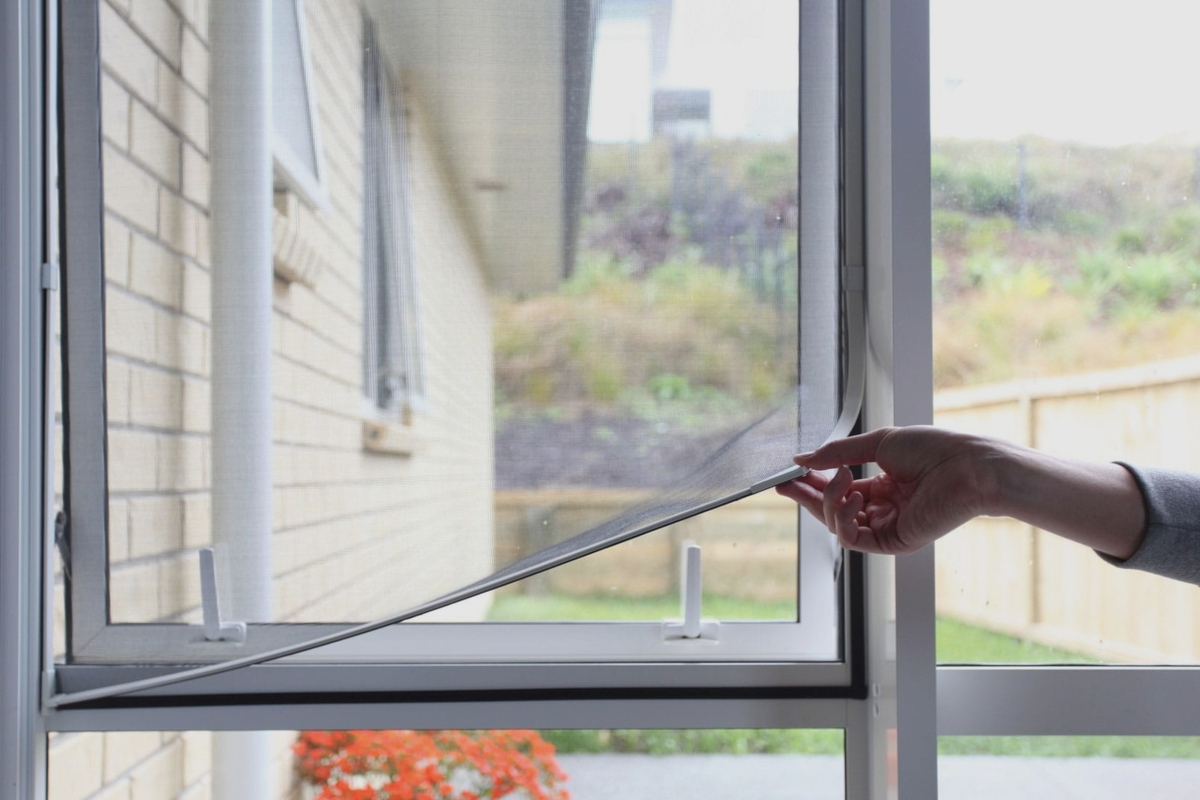 Why is it necessary to clean mosquito nets?
With all that we have said so far you can already get an idea of why it is necessary to clean mosquito nets in an orderly and well polished way. The amount of dirt that builds up day after day must be removed continuously to prevent it from getting worse.
It is best to remove the dirt, with a cloth or paper, when you remove the window. In addition, you should take the cleaning of mosquito nets seriously in order to save money and time every few months. That said, if you want to do things right, the best thing to do is to change your habits and make your window coverings another part of the house that you have to take care of for the environmental hygiene of your family.
Products for cleaning mosquito nets
Products for cleaning mosquito nets they are usually the same regardless of the type you have chosen. When it's time to get down to work, just take a look at this list:
SpongeThe quality of the material will depend on how much you want to spend, but in general, as it is not something you do every day, either you choose a quality one or, in the case of the cheap ones, they are usually replaced. The quality of the material will depend on what you want to spend, but in general, as it is not something you do every day, either you choose a quality one or, in the case of the cheap ones, they are usually replaced every time there is a rinsing forecast.
BrushFor dry dirt removal, a fine-tipped brush can be perfect. Most people use the one they have for clothes or get one exclusively for cleaning mosquito nets. Both are valid, the important thing is that you know how to use it to leave the best scaling ever seen.
Water bucketAny container in which you can put the water and then mix it with the soap can be good for one of the first steps to take. With room to get wet, anything you have around the house can be useful as an element in the process of cleaning mosquito nets and what it means for many.
SoapThe soap you use for the washing machine or dishes can be perfect for mosquito nets as you know them. The brand of this product is nothing special about it either.
AmmoniaThe mosquito nets: as well as for mosquito bites, it also serves to make a thorough cleaning of our mosquito nets. Its disinfectant properties make the result much more effective since it not only helps the visual aspect of the object, but also has the potential to leave them much healthier for everyone living in the house.
ToothbrushThe dirt embedded in this space, if not cleaned frequently, can accumulate mold and mildew and create new forms of infection for all those people living in the home. The dirt embedded in this space, if not cleaned frequently, can accumulate mold and create new forms of infection for all those people living in the house. Are you going to allow it?
TowelsThe mosquito netting is used to dry the mosquito net when we have finished cleaning. If you don't have one at home, you can also use it to dry the mosquito net. a cloth can be used but as long as it is lint-free for a flawless finish.
How to clean mosquito nets in 4 steps
Maintain the window covering as on the first day is a way to understand the use of this accessory. Cleaning mosquito nets not only serves to remove dust from this product, it is also the way to give it a greater use and durability. As something essential for the good maintenance of the product, we leave you with some recommendations:
Moisten the mosquito netThis action serves to soften the dirt. With the garden hose or a sponge bath you can pass it all over the cover so that it is easier to clean it afterwards. This process only takes a few minutes, and once you get down to work, everything will go faster.
Cleaning the mosquito netThe best mixture you can do is warm water and soap. In this case, you have to rub the surface vigorously to remove all the remains and get a perfect image. Sometimes it is also convenient to use ammonia thanks to its disinfectant properties.
Rinsing the mosquito netOnce you have scrubbed it well, the next thing to do is to rinse it with clean water. Cleaning mosquito net has many points of interest and we must value each and every one of them; with the sponge or the hose in a direct way you can make this product look like new.
Drying the mosquito netone of the most important steps is drying. Sometimes, after rinsing the item, some people forget to dry it. On the other hand, in order not to leave water marks on the aluminum, it is essential to wipe it with a cloth or sponge without wetting it so that it looks just as you wish.
These are the steps to clean mosquito nets you must follow but, as you know, day after day it gets dirty and you must remove the little specks of dust that are on the fabric and we will have gained a lot of ground.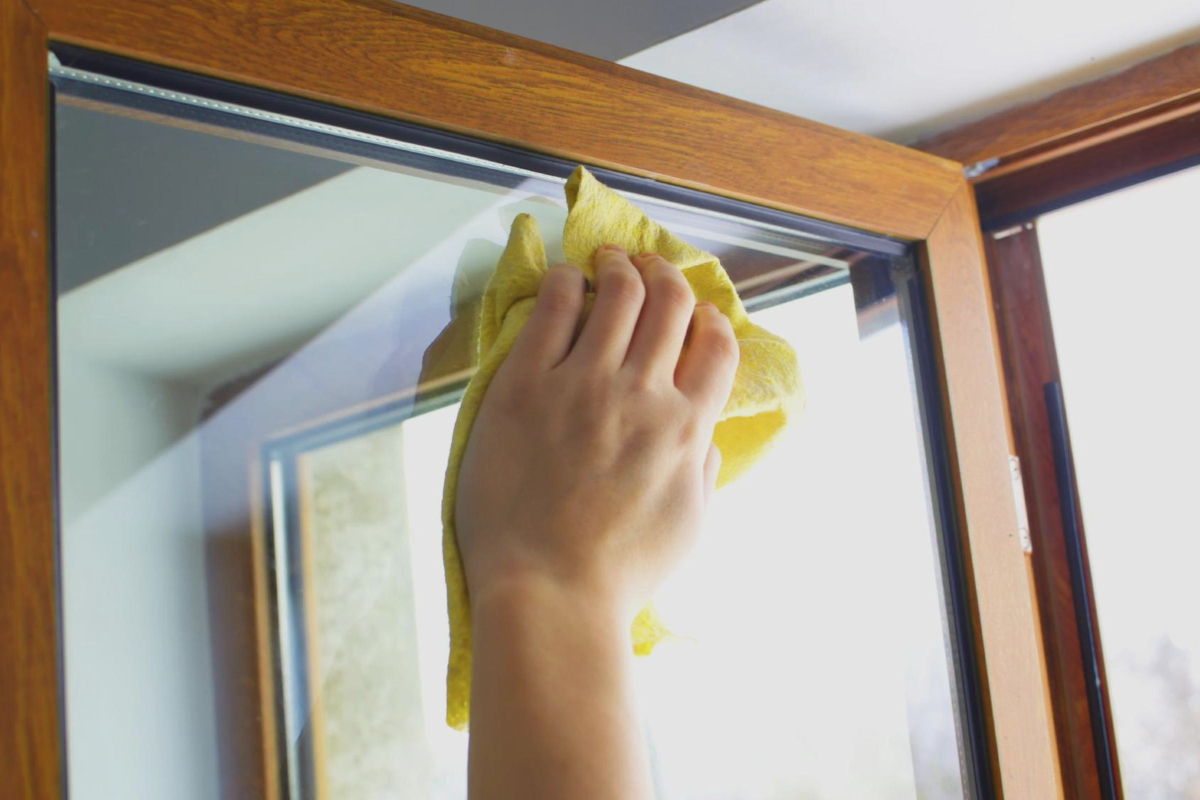 Types of mosquito nets
Thanks to the use that has been given to them for long periods of time, there are several types of mosquito nets that we can access in the market. Below, we bring you the main types of mosquito nets available today:
Without frameThe mesh sticks to the outer frame of the window. Just with a double-sided adhesive tape you have the item you want to protect your home from those unwanted insects or dust particles. Being the simplest of all, the only thing you have to take into account are the dimensions and from there, cut the fabric according to the extension you have.
Window fixturesRecommended for windows that are not easily accessible, it is positioned thanks to 4 stainless steel brackets from which it is collected. The fixed mosquito nets are very simple and quite useful; in addition, they provide facilities for those corners you can't reach.
Mosquito net curtainsIdeal for balconies or terraces, these mosquito nets are very easy to install and act as a protector for our houses. Far from being like the conventional ones, they are becoming more and more popular thanks to their easy installation and price.
Roller blindsWe may have reached the best-selling model. The roll-up mosquito nets have a structure from side guides that makes use of the extreme shafts to hold it in place. Economical and quite handy, this is a practical model that has everything you need to protect your home.
Foldingideal to be placed on doors, they are equipped with an aluminum frame that has in its inside a hinged fabric. Placed in beach huts or cottages, drop-down screens are best suited for doorways. They are also usually quite inexpensive, so you won't have to strain your wallet to install them.
Sliders: clean sliding mosquito nets will be made only and only when they are placed in windows that are so.
Can we clean different nets in the same way?
Once you know the different types of mosquito nets on the market, the question is clear: can all mosquito nets be cleaned in the same way? The answer is very clear: no, although there are many other details behind them. Depending on the model you have chosen the process to polish it will be very different.
In any case, leaving them shiny and ready for use is something you should do with all of them. The ammonia is used to disinfect the dusty areas and the water mixed with soap to give it that attractive look that shows through once you've wiped it down.
Sliding, fixed or hinged doors are some of the most common most popular models. For all of them, the measures and the task of creating a healthy environment is fundamental. Cleaning mosquito nets is also related to the people who live in the house, as it will not be the same as cleaning a mosquito net. same for those who are allergic to or with breathing problems.
As you can see, no matter the model of mosquito net but the products we use to make them look exactly as you imagine. Our recommendation is that you buy quality material; don't wait any longer and enjoy all the advantages of your mosquito net after cleaning it thoroughly.
Newsletter

Be among the first to receive our promotions by e-mail