How to install a pleated insect screen
Summer is coming and you want a solution before the mosquitoes start stalking you. If you've gotten a pleated mosquito net (or are thinking of buying one), it's probably because you're looking for a more modern and comfortable alternative to traditional mosquito nets.
However, this promise of convenience may be thwarted when you realize that you don't know how to install it.
The pleated mosquito nets are a variant of the roll-up mosquito nets, with differences in their opening and folding. That is why you need to know concretely how to install a pleated insect screen. Read this post to find out how to do it, you will see that our method is simple, fast and effective.
Necessary tools
Mounting a pleated mosquito net is not laborious at all. In fact, to do it, you will only need a couple of tools we all have around the house. These are:
Metro
Pencil
Drill
Adhesive tape
Allen wrench
Installing a pleated insect screen step by step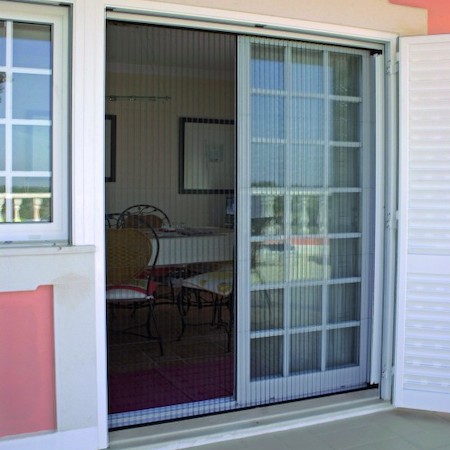 Have you checked that you have all the necessary tools? Good, you're ready to start installing your pleated insect screen. Below, you'll read how you can do it part by part:
Part one: measuring
The first thing you have to do, before buying your pleated mosquito net, is to measure the window you want to install it on.
You must take different measures of your height and choose the smallest.
And, of course, you also have to do it with the width.
It is also advisable to double check the size of your window once you have the screen in your possession. This way, you can make sure that there have been no mistakes with the order before you start working on it.
Part two: installing
It's time to install your pleated insect screen, what do you have to do?
Once you have your pleated mosquito net at home, before proceeding to install it, you must clean thoroughly the surface where you are going to place it. This way you will get rid of possible obstacles that may prevent the profiles from fitting properly.
Identify which part of the screen goes on the top of the screen and which part goes underneath. The bottom part will end differently to suit the guide.
Put each of the elements in place, to establish where the side supports are located. Use a pencil to mark a line that can serve you as a reference. Now, disassemble the mosquito net.
Separates the different media evenly for both sides. Mark them taking into account the line you have just drawn, so that they are all at the same distance from each other.
At this point, take the drill, put in the dowels and screw on the brackets.
Once you have done so, you must put the guides (both top and bottom) with adhesive tape.
After this, place the mosquito net on the guides and tighten it to the wall by applying pressure. You can now tear off the tapes.
Finally, separates the side until it is located in the anchor part.
Part three: adjusting
When you reach this point, you will have to tighten the stops of the side with the Allen wrench.
Next, you must tighten the threads and move the pleated mosquito net several times so that the lines are evenly aligned.
If you notice that it shows resistance When you open or close it, it means that there is too much pressure in the lines. If this happens, you have to loosen them for the screen to work properly.
Part four: checking the installation
You are almost done, you just need to make sure you have done everything right. When you are finished with the installation, you must check a number of things to be sure it is good:
First of all, opens and closes the pleated insect screen several times to see if it presents any problems when used.
Also, verify that there were no faults in the installation of the the upper and lower guides.
Thirdly, it notes that the mosquito netting had no scratches or bends in the profiles.
Now, see if everything is duly fixed.
Finally, be sure to that there is not so much room left in the sliding profile as well as in the side guide.
What to do if we are not able to install a pleated insect screen?
Have you tried all the steps detailed above, but are still having problems? Don't worry, if this whole process is complicated for youyou can always contact with usthat's what we are here for.
Our professionals will be pleased to assist you and solve all your doubts as if they were with you.
Now you know how to install a pleated insect screen in a simple way. The key is to have a little patience and follow the steps that we have been developing in this article.
If, in addition, you are interested in knowing how to install other types of mosquito nets, in our blog we have already talked about the installation of sliding mosquito nets, fixed mosquito nets and roll-up mosquito nets. We invite you to take a look.
Newsletter

Be among the first to receive our promotions by e-mail