Types of alicantine blinds
The alicantine blinds are economical and functional. Thanks to the variety of existing models, you will be able to combine their aesthetics without problems with the decoration of your home. Discover the types of alicantine blinds and choose the one you like the most.
What are the Alicante blinds like?
The types of alicantina blinds consist of a series of slats joined together by a galvanized wire hooksWhy this material and not another? Well, to prevent oxidation. Curtains of this kind are operated by a cord, manually.
The first shutters from Alicante were made with branches and vine leaves. And they originate from the village Saxwhose economy is based on grapevines. The purpose of these first curtains was to stop the passage of sunlight and heat. It was also one of the keys to how to keep flies out of the house.
Over the years, this home accessory has evolved into the models we are going to present today.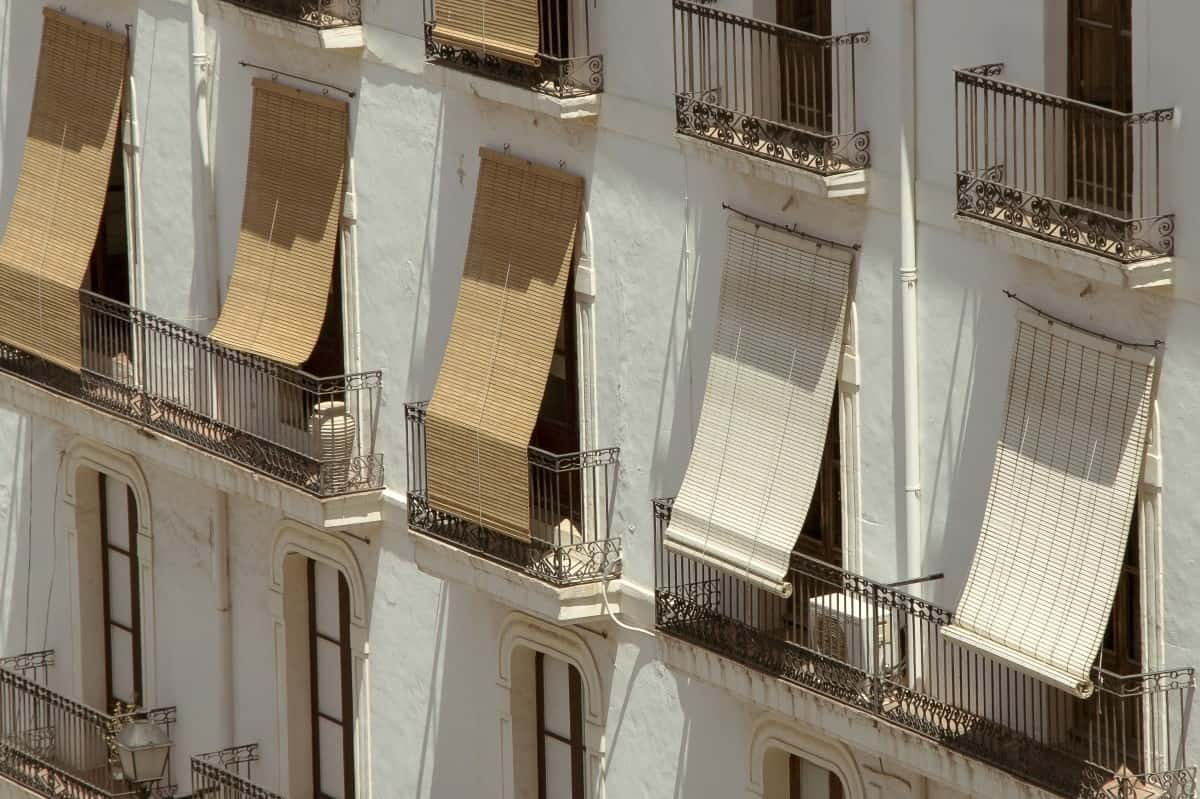 How do the alicantine blinds work?
The entry of light and heat from the outside is controlled by raising or lowering the alicantina curtain. At the top, you will find a slat attached to the mechanism that allows you to do so. This is a rope that runs along the slats, passing through a hole at the top with a pulley (metal or plastic). When pulls on the ropethe shutter is retracted.
The runner can be kept at the height you want by tying the cord. Although there are models that include a brake for this.
Changing the cord of an alicantina blind may be necessary if it is not working properly.
How many types of alicantina blinds are there?
Mainly, there are two types of alicantine blinds according to their manufacturing materials: wood and PVC.
PVC blinds for alicantinas
The alicantina PVC blinds are more resistant and durable. They are recommended in places with extreme climates, either in summer or winter. Their appearance resembles that of wood, and there are models that imitate it. They are lighter because their slats are hollow.
Wooden blinds
The alicantine wooden shutters tend to be the favorite of most, as they are the curtains of a lifetime and are very aesthetic. One of their main advantages is that you can change the color whenever you feel like it. But they have a drawback: they require more maintenance.
Where can both types of alicantine blinds be installed?
They can be placed in pergolas, terraces, balconies, storefronts, fences and windows. They are also used for the separation of spaces or for exterior wall cladding.
They are perfect for providing privacy, as well as an elegant, rustic and summery style. PVC blinds are mostly found in bedrooms.
Create different atmospheres with roller shutters
In the decorative field, many beach bars and hotel terraces demand these roller blinds to create select environments. In addition, they triumph in rustic or country houses for their natural touch.
How to measure an alicantina blind?
If you are wondering how to measure alicantine blindsIf you want them inside or outside the window, consider whether you want them inside or outside the window. Then, measure the window opening and calculate the centimeters you want the curtain to protrude.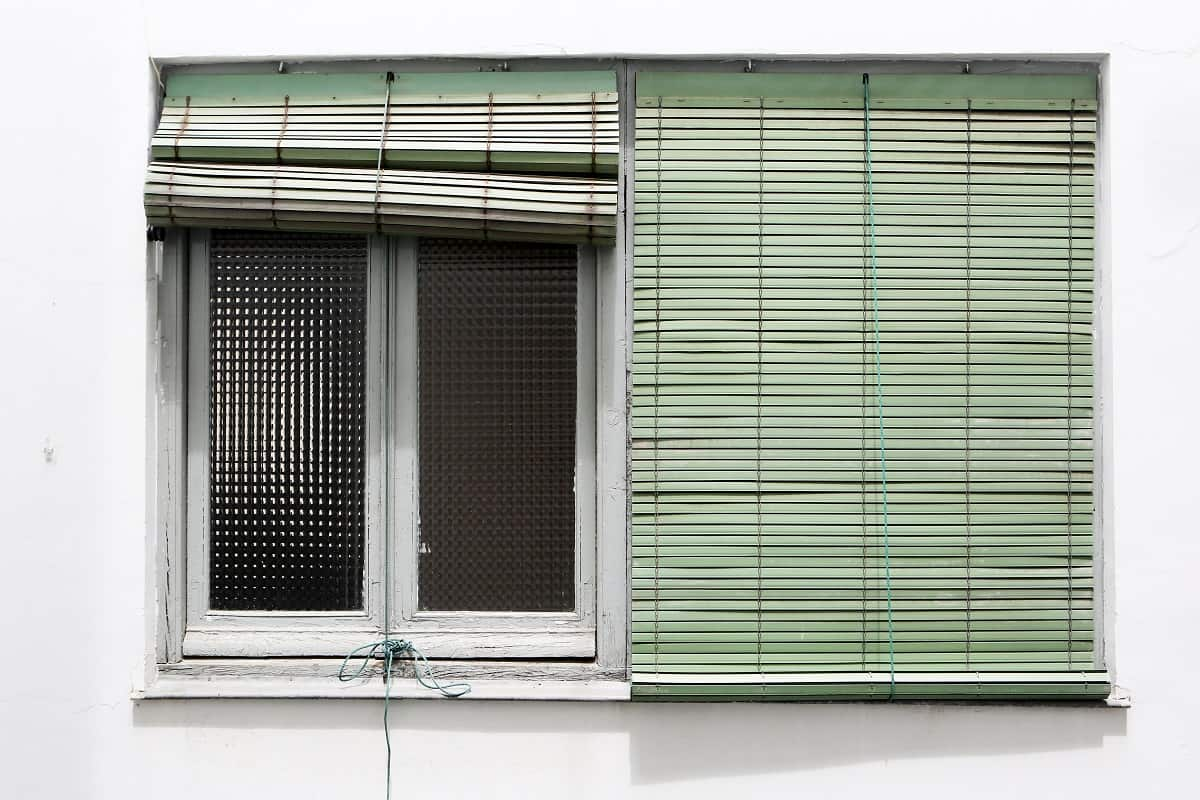 Advantages of alicantine blinds
Both types of alicantine blinds insulate from light and heatThat is why they are so popular in the Mediterranean, where the summer is hot and there are many hours of sunshine. They allow to soften the high interior temperatures. In addition, they slow down the passage of insects and improve the aesthetics of the home.
Easy and economical installation
How to install an alicantina blind is a job that anyone can do. Even the wooden ones (somewhat heavier) are quite manageable. And doing so will not hurt your pocket, as they are a very economical product.
Are alicantine blinds easy to clean?
Don't worry about how to clean alicantine blindswhich is a very simple task. The key is to go over them frequently so that the dirt does not remain embedded.
For PVC curtainsFor stubborn stains, use a liquid cleaning solution and a microfiber cloth. For stubborn stains, combine water with vinegar, soap or ammonia, rubbing with a brush.
For wooden modelsUse products for this material with a cloth. And remember that excess water can damage the wood.
Purchasing criteria
It is convenient to know certain criteria before installing any of the types of alicantinas blinds in your home. For that reason, we tell you several aspects to consider about these curtains:
Materials and colors
The slats, whether plastic or wood, are usually made of light tones. Although, depending on the business, the possibilities expand. The best to achieve an optimal decoration, in general, are: blue, green, ivory, gray and white. In the case of wooden curtains, these can also be varnished.
Painted wooden alicantinas can lose color over time, so they require better care.
Warranty
Although it is a simple and inexpensive product, which should not cause problems in the short or long term, it is better to count with purchase guarantee. Better safe than sorry.
Installation
Think carefully about where to place the types of alicantine blindsYou should make sure that the hooks are easy to put in place. And do not forget to take correctly both the width and height.
Measures
As a buyer, choose the size that best suits your needs and the space where you want to place them. In our store, you can select between 10 and 350 cm high and between 10 and 200 cm wide.
Wooden exterior shutters
When mounting outdoor alicantina blinds, do not forget the characteristics of the product. The varnished solid wood is usually recommended for these spaces, given its resistance to UV rays. On the other hand, pine wood withstands weathering better than exterior bamboo blinds.
Likewise, the crimping of the slats must have a galvanized and anti-corrosion metal chain link.
PVC exterior shutters
If you were wondering why plastic window blinds are still in useis because the PVC slats also have their advantages. They withstand weathering and solar radiation well. In addition, they are more manageable and cheaper.
Incidentally, to be of good quality, they must allow air circulation through their grating.
Conclusion
Now you know the two types of alicantine blinds Which one do you choose? As we have explained in this post, both have their advantages and disadvantages. But, without a doubt, they are a complement that every house needs to regulate light and heat, as well as to keep insects out. Just like the roll-up mosquito nets.
Newsletter

Be among the first to receive our promotions by e-mail